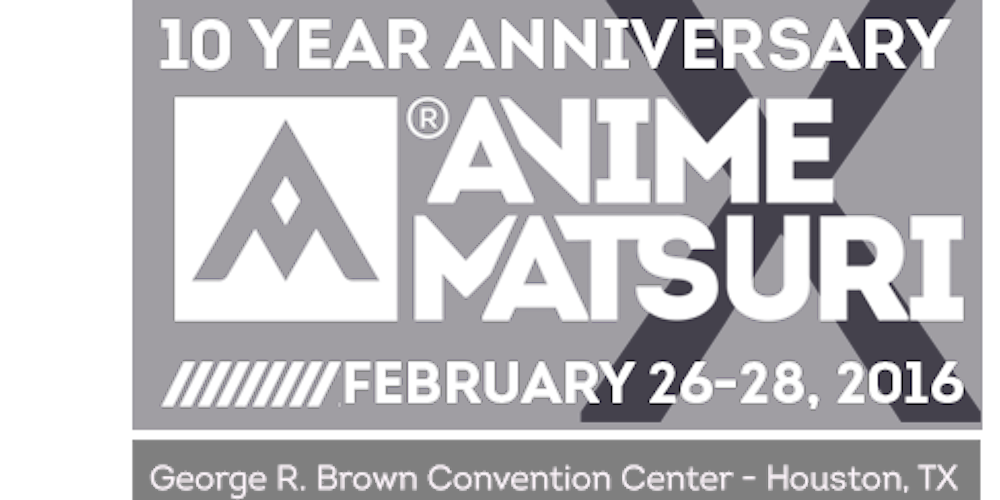 We're heading down south to the warmer weathers of Houston to take part in the 10th anniversary of Anime Matsuri Houston. We're bringing the booth deals, we're bringing the fun panels, and we're bringing the English Dub premieres, and even more! Be sure to give Justin, Tara, Tim, and Godswill your southern hospitality as they bring all of the fun!
PANELS
Funimation Favorites | Friday, February 26th | 7:00pm – 8:00pm | Panel Room 5 (370A-F)
Funimation takes a look at some of our personal favorites from current
anime
and past classics. What's your Funimation favorite? Share it with us using the hashtag #FunimationFave!  
Funimation Peep Show (18+) | Friday, February 26th | 12:00am – 1:30am | Panel Room 3 (Grand Ballroom C)
Guaranteed to be a good time that's oh so NSFW. Watch jiggly clips and trailers from some of the hottest Funimation titles with hosts Herbie Housely (@HerbieHousely) and Cookie Stratford (@CookieStratford).  Don't forget to bring tissues, you know, for the nose bleeds. Audience participation encouraged by tweeting using the hashtag #FunimationPeepShow. You could even win some naughty prizes. (18+, Bring your IDs!)
Funimation Industry Panel | Saturday, February 27th | 10:00am – 11:30am | Panel Room 1 (Grand Ballroom A)
From Akira to Dragon Ball Z, hear the latest news, info, and announcements from North America's largest
anime
distributor—Funimation. Live tweet with us using the hashtag #FunimationPanel for a chance to win prizes!      
DEALER'S BOOTH
Dealer Booth Hours:
Friday | 11:30am – 7:00pm
Saturday | 9:30am – 7:00pm
Sunday | 9:30am – 4:00pm
In addition to sweet savings that can be found at the booth we're bringing in the Lucky Pin Draw where if you spend a certain amount at the booth, you get to choose the pin you want! Pin tiers are:
$75 – 1 pin
$125 – 2 pins
$150 – 3 pins
$200 – 4 pins
With every purchase we'll be handing out collectible shopping bags and a Funimation Lanyard!
In the dealers hall adjacent to the Funimation Booth will be a streaming theater that will be showing all Funimation Content all weekend.  Check your schedule for screening showtimes.
SCREENINGS
English Dub Premiere | Check Schedule for Details  
Series Synopsis:
Two thousand years ago, the black-and-silver-winged dragon, Bahamut, terrorized the magical land of Mistarcia. The humans, god, and demons that inhabited the land united forces against the fiend and sealed its power into a key which was split in two, one half protected by gods and the other protected by demons. Now, Mistarcia is a peaceful realm – until a human woman steals the god's half of the key. Based on the immensely popular digital card game, Rage of Bahamut: Genesis is an exciting blend of action and fantasy.