16 years after its first run on Toonami, Outlaw Star is coming to home video–and for the first time on Blu-ray! From Sunrise (the studio behind Cowboy Bebop), Outlaw Star was one of the most famous space westerns for North American anime fans, bringing a very specific sense of cool with space pirates, bounty hunters, gun shootouts, and a general passion for adventure. This is a series whose humor and story still live up surprisingly well almost 2 decades later, and we're so excited to present it in glorious HD!
The Collector's Edition of Outlaw Star features a special die-cut box crafted to resemble the titular ship of the show, with a vertical hatch-style opening. The ship's paint job was hand-painted by the designer to recreate nicks and scratches on the ship—a great touch that should be noteworthy to anyone familiar with Gene's rather… haphazard handling habits. Open the hatch on this box and you will find a hefty 100 page art-book, full of exclusive line art, character designs, mechanical designs, and even background image concepts.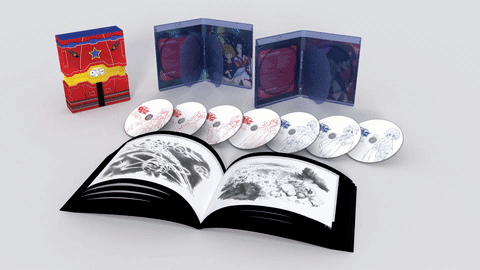 Both editions are available June 13, 2017. Don't let this release fly by–pre-order now to reserve your copy this star burns out! Standard edition and Collector's Edition.
---