Join Tara, Tim, Scott, Alex, Jay, and Godswill in Atlanta this last weekend of September for Funimation fun in Anime Weekend Atlanta! We're bringing parties, panels, booth deals, and much more. Check out the details below…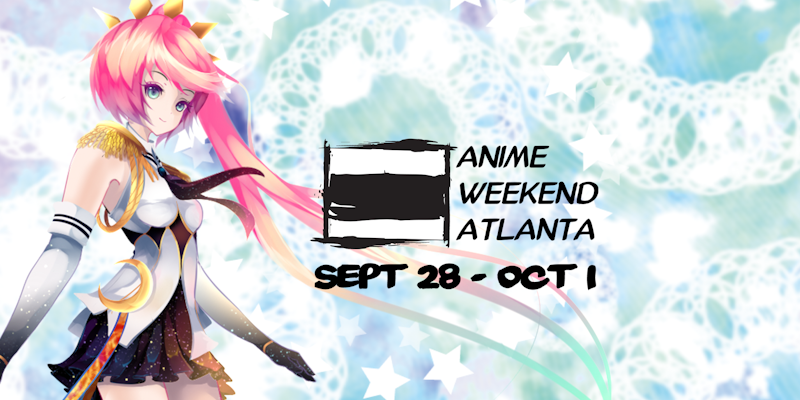 PANELS
Funimation Favorites Panel | Friday, September 29th | 5:30p-6:30p | Williams CDF
Funimation takes a look at some of our personal favorites from current anime and past classics. What's your Funimation favorite? Share it with us using the hashtag #FunimationFave!
Funimation Peep Show (18+) | Friday, September 29th | 10:00p-11:45p | Grand Panel
Guaranteed to be a good time that's oh so NSFW. Watch clips and trailers from some of the hottest Funimation titles with host Cookie Stratford. Audience participation encouraged by tweeting using the hashtag #FunimationPeepShow. You could even win some naughty prizes. (18+, Bring your IDs!)
Funimation Industry Panel | Saturday, September 30th | 3:00p-4:00p | Williams CDF
From Akira to Dragon Ball Z, hear the latest news, info, and announcements from North America's largest anime distributor—Funimation. Live tweet with us using the hashtag #FunimationPanel for a chance to win prizes!
Funimation Presents: Your Name Panel | Sunday, October 1st | 1:30p-2:30p | Williams CDF
Join Funimation, Stephanie Sheh and Michael Sinterniklaas for an in depth look at the record breaking and breath taking film, "Your Name".
EVENTS
Funimation Party | Thursday, September 28th | 7:00p-10:00p | Kennesaw
You haven't experienced a party quite like this one! Join Funimation for a great way to start off your AWA! Socialize with other Day 0 congoers and pick up free swag!
FUNIMATION BOOTH
Stop by the Funimation booth to get some great deals on new and classic titles! In addition to sweet savings that can be found at the booth, we'll have some special events at the booth such as:
Lucky Pin Draw!
When you spend a certain amount at the booth, you'll get to choose a free Funimation-exclusive pin! Pin tiers are:
$75 – 1 pin
$125 – 2 pins
$150 – 3 pins
$200 – 4 pins
With every purchase we'll be handing out collectible shopping bags and a Funimation Lanyard! Also you can be sure to find special autographed items based on what you buy.
SCREENINGS
91 Days Home Video Premiere | Friday, September 29th | 9:45pm – 11:59pm | The Red Carpet – Grand Ballroom 1&2
Prohibition—a time where law holds no power, and the mafia prowls the streets. Avilio Bruno has grown up alone in this murky world after the Vanetti's murdered his family. One day, he receives a letter that holds the key to revenge. Befriending the don's son, Nero, Avilio works his way through the Vanetti family and sets his vengeance in motion. But 91 days of killing can only spawn more tragedy.  
Your Name. | Saturday, September 30th | 4:45pm – 6:45pm | The Red Carpet – Grand Ballroom 1&2
Mitsuha and Taki are two total strangers living completely different lives. But when Mitsuha makes a wish to leave her mountain town and for the bustling city of Tokyo, they become connected in a bizarre way. She dreams she is a boy living in Tokyo while Taki dreams he is a girl from a rural town he's never been to. What does their newfound connection mean? And how will it bring them together?
Testament of Sister New Devil English Dub Premiere (18+) | Saturday, September 30th | 10:00p-12:00a | Grand Video
When a pair of sexy girls, Maria and Mio, come to live with high school student Basara Tojo, his life changes forever. The two girls have a secret that they don't keep for long—Maria is a succubus, and Mio is a future Demon Lord. But Basara has a secret of his own—he's the last descendant from a clan of demon-fighting heroes. They come up with creative ways to resolve their differences.
See you there!