Right off the heels of the biggest anime conventions is one of the biggest conventions in the world: Comic-con International: San Diego! Autographs, Blu-ray/DVD sales, parties, world premieres, festivals, and many more are to come. See what all we have planned below:
Jump to section:
THURSDAY – July 19th
2:15p – 3:15p | Dragon Ball Super Panel | Hall H
The greatest action animated series of all time returns! Join English voice actors for Goku and Vegeta, Sean Schemmel and Christopher Sabat, as they talk all things Dragon Ball — and reveal never-before-seen announcements for the new movie.
There will also be special guest appearances from Dragon Ball mega-fans WWE® Superstar Zack Ryder™ and WWE® Superstar Kofi Kingston™, as well behind-the-scenes discussions with the movie producers from Japan!
Be sure to follow the rules for lining up at Hall H! https://www.comic-con.org/toucan/21-hall-h-and-plaza-park-lines-toucan-tracker-wristbands
Space Battleship Yamato 2199 – Part One Home Video Premiere | Thursday, July 19th | 4:15 – 4:40p | Marriott Grand Ballroom 13

Earth is on the verge of complete annihilation. Threatened by an intergalactic superpower known as Gamilas, humankind's last hope for survival depends upon the generous assistance of another alien civilization—Iscandar. The Space Battleship Yamato has only one year to seek out this planet and recover a device that could revitalize Earth.
6:00p – 7:00p | Funimation Industry Panel | Room 29AB
From Akira to Dragon Ball Z, hear the latest news, info, and announcements from North America's largest anime distributor—Funimation. Live tweet with us using the hashtag #FunimationPanel!
SATURDAY – July 21st
11:15a – 12:15p | My Hero Academia Panel | Room 6A
Voice actors Christopher R. Sabat (All Might) & Justin Briner (Deku) join the creator of My Hero Academia and esteemed guest, Kohei Horikoshi, on stage at this joint panel with VIZ Media to talk on this larger than life manga, series and movie. Everyone is attendance will receive a poster!


I Am A Hero – Home Video Premiere | Saturday, July 21st | 6:40p – 8:50p | Marriott Grand Ballroom 8
Based on the celebrated horror manga I Am a Hero comes a live-action film adaptation that's bound to get your blood flowing! Thirty-five-year-old assistant manga artist Hideo Suzuki leads an unsatisfying, tedious life. But when a virus outbreak hits Japan turning the infected into mindless cannibals, it's his chance to become the hero he's always daydreamed he could be, even if it kills him.
7:30p – 8:30p | Funimation Favorites Panel | Room 7AB
Funimation staff members take a look at some personal favorites from current anime and past classics. What's your Funimation favorite? Live tweet with us using the hashtag #FunimationPanel!
NOTE: Each autograph session at the Funimation Booth will be ticketed. Tickets will be distributed every morning at the main Funimation booth at 10:00am, on a first-come, first-served basis. Autographs will be limited to 1 item per person, or one of the posters provided by Funimation staff.

SATURDAY – July 21st
2:00p – 3:00p | My Hero Academia Cast Autographs | Funimation Booth #4135
Get a limited My Hero Academia poster signed by the talented voice actors Justin Briner (English voice of Deku) & Christopher R. Sabat (All Might)!

WEDNESDAY – July 18

 
8:00p – 1:00a | Destination: Funimation @ SDCC 2018 – Wednesday After Party (21+)| Whiskey Girl, San Diego

---
No badge? No problem! Special guests, photo booth, airbrush tattoos, giveaways and more — we've got you covered!
If you're in San Diego during Comic Con, stop by Destination : Funimation @ Whiskey Girl 702 5th Ave.
FREE ENTRY for all! Doors open at 8pm.
PLUS, free drink ticket for every attendee!
+1 additional drink ticket for FunimationNow subscribers. (As well as priority access. Skip the line! Must show proof of active subscription upon entering.)
+1 additional drink ticket when you sign up for Funimation emails.
First come, first served at the door. RSVP does not guarantee entry. Admission subject to capacity.
Register* to win one of 8 anime prize packs (valued over $300) to be given away every hour, on the hour. No badge required!!
We're expecting a full house, so be sure to get there early. 21+ only. IDs will be checked at the door.
Become a FunimationNow subscriber to get priority access! Use promo code "SDCC2018" to get your first month free.
Use the hashtag #FUNSDCC2018 on Twitter and Instagram for additional chances to win anime swag through the evening.
Sponsored in part by Microsoft, Anime PLS, Quidd and SonicBoomBox.
THURSDAY – July 19th
8:00p – 1:00a | Dragon Ball Super: Broly — The Movie Launch Party (21+)| Whiskey Girl, San Diego

Dragon Ball Super: Broly kicks off with the official movie launch party! Be the first to celebrate the Dragon Ball franchise's milestone 20th film with a party at Whiskey Girl, just a couple blocks from the convention center. We'll have themed drink specials, celebrity guest appearances, photo ops, free Dragon Ball Super movie souvenirs, and more.
Dragon Ball Super North American Tour | Marriott Marquis Marina Terrace
The Dragon Ball Super North American Tour kicks off with its first stop at SDCC! Look out for the World Martial Arts Tournament setup at the Marriott Marquis Marina Terrace for games, anime merch displays, photo ops and more.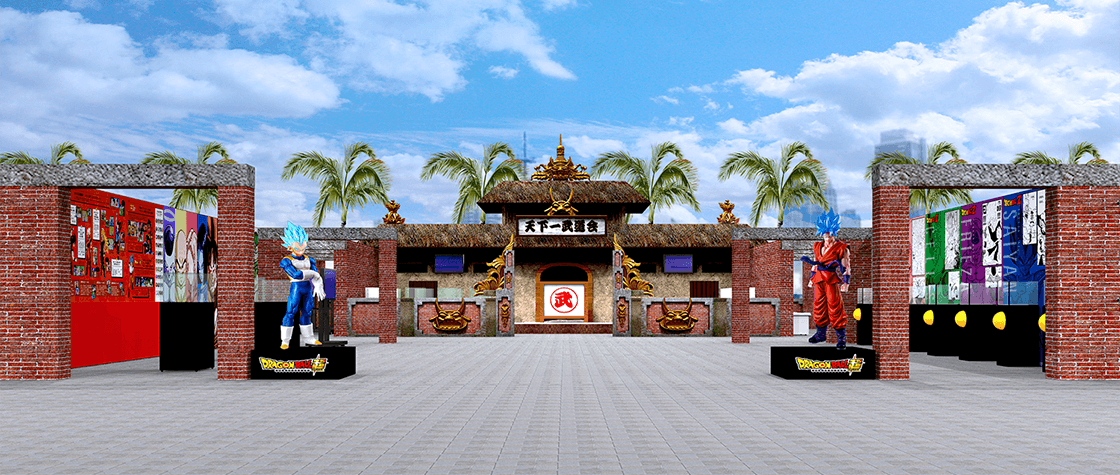 Check out the Funimation space at the Tour HQ to vote for the Saiyan YOU think will reign supreme—Goku, Vegeta, or Broly—and get an exclusive 3" pinback button of your favorite, exclusive to the North American tour. There'll also be appearances by Goku, Vegeta and Broly mascots for photo ops through Friday!
Wednesday 5PM-10PM
Thursday 9:30AM-8PM
Friday 9:30AM-8PM
Saturday 9:30AM-8PM
Sunday 9:30AM-6PM
Dragon Ball Super Pedicabs |  Gaslamp District
Get around SDCC Saiyan-style! It's not quite a Flying Nimbus, but our official Super Saiyan Blue Goku drivers will be offering free pedicab rides to fans from the convention center to locations around the nearby Gaslamp District!
Thursday 2:00PM-8:00PM
Friday 12:00PM-8:00PM
Look out for the Dragon Ball Super Movie-skinned pedicabs, and if you get a ride, be sure to take a pic to post with hashtag #DragonBallSuperMovie. Official costumes provided by Spirit Halloween.
My Hero Academia Trivia Giveaway
4:00p – 5:00p | Friday, July 20th | Whiskey Girl, San Diego
Want to get decked out like Deku in MHA swag? Join us for a trivia challenge with Justin & Chris, and you could walk away with some new gear!
INSIDE THE CON FREEBIES – All Con
My Hero Academia Headbands

Pick these headbands up at the Funimation Booth (#4135) in the Dealer's Room!
*Limited Quantities Available Daily, and are not available during autograph signings
 
Stop by the Big Funimation booth in the Exhibit Hall at booth #4135 to get some great deals on new and classic titles!
In addition to sweet savings that can be found at the booth, we'll have some special events at the booth such as:
With every purchase we'll be handing out collectible shopping bags including an eye-catching paper shopper bag from Steins;Gate 0 and a Funimation Lanyard! Also you can be sure to find special autographed items based on what you buy.
We've also got some con-exclusive Dragon Ball items from our friends at Bandai—and at San Diego Comic-Con these will ONLY be sold at the Funimation booth!
The Dragon Stars Series – Saiyan Evolution Pack celebrates the three primary forms that Goku takes in the hit series, Dragon Ball Super, with three exclusive, highly detailed, and poseable 6.5" figurines.
The product comes in premium matte black packaging, with an outer sleeve that can be easily taken on and off to showcase the three figures, each of which is posed in a fighting stance. This product will only ever be sold at Anime Expo and San Diego Comic-Con in 2018.
The Golden Frieza Scouter is a tribute to everyone's favorite villain who never really dies. It is the amalgamation of Golden Freiza's signature look and the iconic Dragon Ball scouter, in a never before seen re-imagining that is sure to delight fans.
The scouter can be worn by both children and adults alike. It comes packaged in a premium matte white box, that slowly slides open when you hold the top lid, let gravity do its job, and let out a high-pitched cackle. This product will only ever be sold at Anime Expo and San Diego Comic-Con in 2018.
San Diego Comic-Con 2018 Exclusive Funko Pop: Dragon Ball Super – Metallic Whis
Limit 1 per person/per day.
No child badges will be allowed to purchase the Funko Pop.
No Exhibitors/Professional/Industry/Staff will be able to purchase the pops until Saturday.
SEE YOU THERE!
Missed the exclusive Dragon Ball Super Funko Pop at the convention? Try shoping our other selection of funko pop figures today.